A U2 diary from the future
Through the power of time travel – the scientific details of which can be neither divulged or even referenced to from this point onward – I have navigated to the year 2026 to witness and report on an event that will captivate the imagination of the world … and, no doubt, countless supporters of a little band out of Dublin, Ireland.
It's finally here. The night we've all been waiting for. The hibachi is packed, the cooler is stocked and the car has a full tank of gas. Turn up the music, and buckle your seatbelt because it's June 22, 2026 – U2's 50th anniversary tour has finally hit Jersey!
An occasion of this magnitude must be documented for historians:
4:17 –
We are on the road, making the voyage to East Rutherford, NJ. Our solar-powered car must pull to side of the road when some cloud cover rolls into the area, but it quickly dissipates and our journey resumes. While waiting, we listen to U2's latest album, Man, the group's first new recording since Bono announced at a New Year's Eve concert in 2010 that the band needed to "go away and dream it all up again … again." We agree that the first seven tracks of the album are excellent, the last four not so much. "The more things change, the more they stay the same," my brother winningly prods from the back seat.
4:54 –
We glide into the parking orb and find an ideal spot close (but not too close) to the port-o-potties. We lament the lack of progress of the portable restroom in the last 20 years, which still smells like human waste mixed with a month-old chicken lo mein. As expected, U2's Man Tour draws a more, ahem, veteran crowd; there are an inordinate amount of gray-haired men with ponytails and middle-aged women wearing fanny packs. The crowd does skew young in some areas of the lot, assumedly do to the success of Man's first single, which is the theme song of a particularly popular CW teen drama starring Suri Cruise and the cryogenically-frozen head of her father.
5:45 –
While we soak in the celebratory atmosphere, we discuss why we think the band decided to come back after all this time away from the road. Some think Edge's new marriage to a fortune teller has something to do with it, while others speculate Bono needs the money, having squandered much of his fortune on an ill-advised theme park in central Africa. On Interference.com (still the preeminent source for all U2 news and information!), it is reported that Adam needs money to pay his staggering medical bills since getting back together with tempestuous former supermodel Naomi Campbell. We all pretty much agree that Larry's doing it because he likes to play drums.
7:55 –
We enter the building just in time to catch the tail end of opening act Oasis Starship, which features a weathered-looking Liam Gallagher and four unknown backing musicians. I am told later that Noel sued his brother several years earlier upon his departure from the group, forcing the alteration in the band's moniker. Anyway, "Acquiesce" was enjoyable.
9:00 –
The house lights dim and anticipation builds to a near fever pitch as U2 are about to make their first metropolitan area appearance since the Hillary Clinton administration. The stage setup combines all of the elements of past U2 tours. There are white flags, video walls, Trabants, giant golden arches, disco lemon mirror balls, beaded curtains, and two separate catwalks -- one in an egg contour and another in a heart shape. There is also a b-stage somewhere in the parking lot, which puzzles us from a logistical standpoint.
9:05 –
One by one, the band appears to thunderous applause. The Edge has finally embraced his baldness, eschewing his signature skull cap in favor of a more natural "rich-man's Phil Collins" look. Adam – his arm in a sling after serving the wrong flavored tea to Naomi earlier in the week – is reduced to a silver-haired cheerleader, but the crowd loves him anyway. We all agree – even the men in our group – that Larry is still pretty damned good-looking.
9:10 –
After what seems like an eternity, Bono finally appears stage left. Oddly, the B-Man looks exactly the same as he did 20 years ago, to the point that it's almost creepy. One considerable difference is that he has grown back his mullet from the Unforgettable Fire days, a hairstyle that has improbably regained its standing in popular culture in recent years. One interesting note: Bono seems to have a halo over his head at all times. Seated in the upper deck, I cannot decipher whether this is a special effect or an actual luminous ring of splendor. The crowd is strangely unaffected by this – assumedly because they wouldn't be surprised by either reality.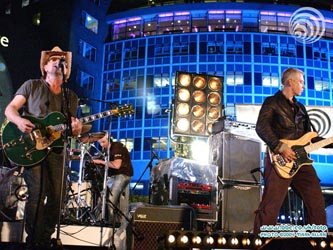 9:53 –
What a glorious return for Dublin's finest! The band is in fine form. Bono is levitating – literally levitating – around the arena with nary a lifted eyebrow from the crowd. The Edge hasn't lost a beat, his guitar shimmering and shining like his uncovered cranium. Adam is working keyboards with his good arm and Paul McGuiness Jr. has managed to track down the roadie from the '93 ZooTV Sydney show to handle bass duties. Larry has yet to smile, but seems largely content.
10:40 –
The band is breaking out the big guns tonight. After Bono gives a rambling speech about the kingdom of heaven and the scent of the top of a newborn baby's head, 77-year-old Bruce Springsteen is beamed live via satellite from a Belmar, NJ rest home for a touching acoustic duet with Bono of "Satellite of Love" segueing into "Jersey Girl." The crowd bellows, "BRUUUUUUUUCE," which Springsteen acknowledges before diving into his second serving of tapioca.
11:06 –
The band rips into a rocking rendition of the classic rock staple, "Vertigo," before Bono admits to the crowd that he just found out that the English translation of "catorce" was 14. "What do you think of that The Edge!" Bono yelps while gesturing wildly, as the rest of the band shares a smirk, seemingly aware of the faux pas all along.
11:20 –
U2 launches into an epic performance of "Where the Streets Have No Name," with backing vocals from a deep and booming voice from above which everybody agrees is definitely not coming from the sound system. Bono then gives a 38-minute speech on why his African theme park failed (there were apparently "overhead" issues), before closing the show with a tender rendition of "One" – featuring a helping hand from an alarmingly rotund Mary J. Blige, clearly now in the Aretha Franklin stage of her career.
11:31 –
Bono levitates out of the building during "40" and the rest of the band brings a truly epic show to a close. As we head to the car, "Howwww lonnnng, must we sing thiiiis song?" echoes through the parking lot and we all pretty much agree that forever is the right answer.
Frankly, I'm convinced Bono might be able to make this happen.